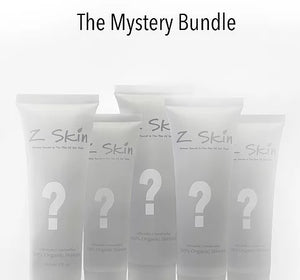 Description
You'll receive a random array of 3 products from our store, saving up to 60% off! 
 Save even more money with our 5 Item Mystery Bundle  or

  

8 Item Mystery Bundle
From Acne Spot Treatment to Face Lift Lotion, you never know what you might get! 
                  How do we decide which items to put in your mystery bundle?
We have a bag filled with slips of paper, written on them are all the products in our store valued over $15.
We shake up the bag with the product names, wiggle our noses, click our heels and pull out the product names.
Those items are the ones we ship to you!