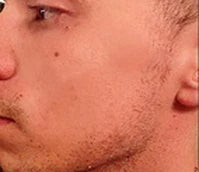 Ryan Zamo
Before and After Creating Z Skin Cosmetics
We use herbs and oils from around the world, to give you the flawless complexion you're seeking. Our mission is to make sure we research and find exactly what you need from your skin care products.
The company was founded after searching and failing, to find products which worked just right for my skin type. So, I turned to my father and my mother to crack the secret to flawless skin! My mother who suddenly passed away in April of 2015, let me in on her extensive background in plant bio, and her long career as a successful horticulturist
My father, who grew up in Hungary, always told me the stories about the amazing ways they would heal skin with herbs and oils when he was growing up. They say the best home remedies come from our ancestors, and how true it is! With his Hungarian traditions, and my mom's insight into the use of exotic herbs and oils from across the world, they showed me how to keep skin looking young and fresh. And, after years of searching the globe for the secret to perfect skin, Z Skin Cosmetics can finally offer up the unprecedented formulas from Mother Nature herself.
From Our Family. To Yours
Thank You For The Support!
Z Skin Cosmetics uses a vast amount of exotic herbs and oils that are imported just for our brand. These herbs and oils come from around the world; such as Japan, Australia, Hungary and Africa. Each culture has had its own ancient traditions to looking young, healthy and beautiful. For centuries, they have used their own remedies for healing such skin problems as acne, eczema, psoriasis and reversing the signs of aging.
With these global traditions all packed into one skin care line, the results are unprecedented, and the proof is in our costumers! Achieving the beautiful healthy looking skin that you've always dreamed of, can finally be found right here, with Z Skin Cosmetics!
Sincerly,

Ryan Zamo
Z Skin Cosmetics CEO/Founder