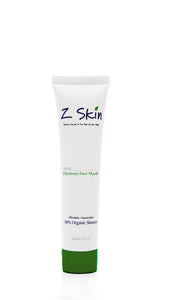 Description
This organic face mask is the organic alternative to professional peels. Combining the worlds strongest chemical free formula, the powerful combination of Alpha and Beta Hydroxy Acids will help reveal a smoother, brighter complexion. With added acne fighting ingredients, the Acne Hydroxy Face Mask will also reduce redness, swelling, irritation, scars, dark marks and help clear and prevent breakouts.
Working to restore new skin cells, and remove dead skin cells, the 100% organic Acne Hydroxy Face Mask will also quickly erase fine lines, wrinkles and dark marks. You will notice clearer, smoother, brighter skin, revealing a youthful vibrant glow after just 20 minutes. 
Ingredients
Vinegar, Jojoba, Sugar, Triphala, White Willow, Milk Enzyme, Lemon, Cream of Tartar, Rosemary, Cedar Wood, Peppermint, Clove.